We've got a holiday tradition here at Sposto Interactive. Right about the time retailers cue up their holiday playlists, we pop on wigs, suit up in our best thrift shop finds and take pictures of ourselves. Many pictures. Then we figure out a way to pass those pictures off as a "holiday card". Don't judge. Your family has weird traditions, too.
Here's a look back at our two favorites: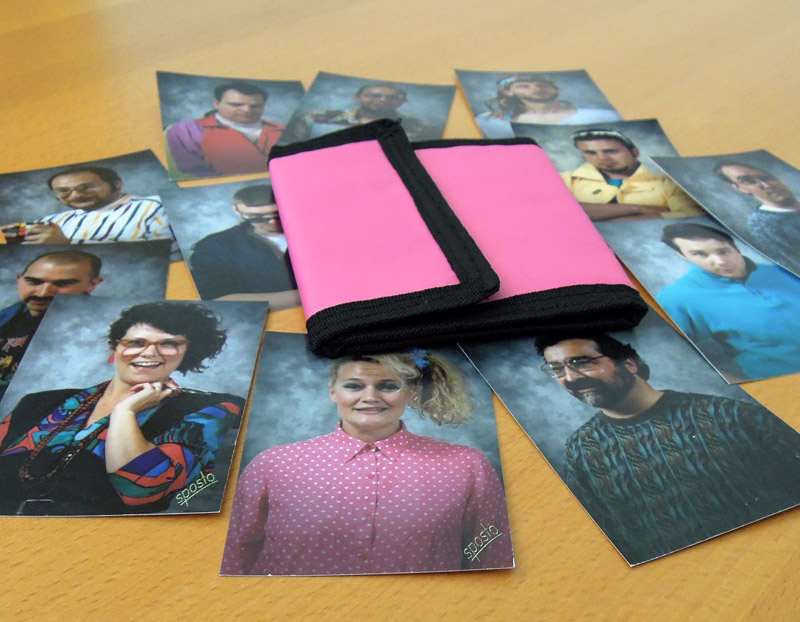 Your Lost Wallet
Remember that wallet you lost back in 1986? The neon one with velcro? You left it on Galaga while you were getting more quarters and a Mellow Yellow. You figured someone nabbed it, right?
Well, you were wrong. 25 years later, when we finally moved Galaga, there was your wallet, a dusty nylon time capsule of the year you ruled the arcade. As a holiday gesture, we mailed it back to you, ridiculous contents intact. Happy time traveling, friend.
Happy Hoedowning
Oh, holiday music. Few genres have more spirit, positivity and flat-out awkwardness. Need an example? Just check out Sposto Records' 2012 compilation, "It's a Holiday Hoedown". Featuring stylish scatting from The Daft Tones, sultry crooning from Don Bologna, hometown harmonizing from The K'town Singers and more, this limited run album will become a mainstay of your family's holiday turntable. Or a decorative bowl. Or a stylish bangle. Or a coaster.
Check out more suggestions for disposing of the phony record
And a quick note about failing…
Abandoning tradition is always tricky. Last year, we strayed from our mainstay and illustrated ourselves into a neo-classic holiday book entitled "The Night Before Deadline". Though executed beautifully, the story's tone was decidedly negative…a holiday downer, in fact. Our sincere apologies to the spirit of the holidays and all of the card's recipients. We vow to return to our good-natured, wig-donning selves in 2014's installment.